Mkanakhoti School
School Profile
Mkanakhoti School is located in the northern part of Kasungu district in Malawi. There are 8 teachers at the school and 955 pupils, ranging from 164 pupils in Standard 1 (the equivalent of our Year 1) to 44 pupils in Standard 8 (the equivalent of our Year 8). Mkanakhoti is a government school but with a local school management committee that assists the Headteacher in the day to day running of the school. The whole school management structure consists of the School Committee and Parent Teachers Association. On professional matters, the Headteacher reports to the District Education Manager.
Like other primary schools in Malawi, Mkanakhoti teaches the following subjects: English, Maths, Religious Education, General Studies, Agriculture, Home Economics and Science.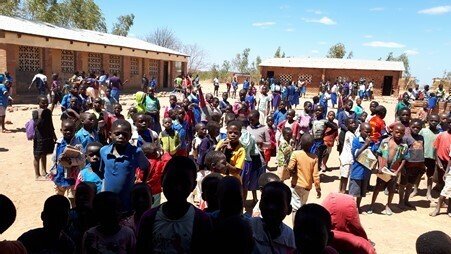 Benefits of the Link
Enables the sharing of experiences about education between the two schools
Greatly assists children to understand the wider world after learning about the life of their peers, helping them to become better global citizens
Enables teachers to enhance their professional skills through dialogue and interaction with fellow teachers
To date, 8 staff from Holy Trinity have visited Mkanakhoti since the link was established over 10 years ago and 2 staff from Mkanakhoti have visited Holy Trinity. Another reciprocal visit was planned for 2021 but had to be postponed due to Covid restrictions.
The two schools communicate regularly via a WhatsApp group, sharing news and celebrating successes.
Container
Once a year, a container is sent out to Malawi through the charity Starfish Malawi. Holy Trinity regularly sends out much needed supplies of stationery, First Aid equipment, including sanitary packs to enable girls to attend school more regularly, and clothing. If you have anything you would like to donate, or indeed if you would like to make a financial donation, please speak to Holy Trinity School Office.
Clean Hands Project
As part of our joint work with Mkanakhoti School, we have had a major focus on handwashing to improve health and hygiene in both schools. Children and staff at Mkanakhoti School are fortunate in having a borehole right next to the school from which they can transport water in buckets to facilitate handwashing. The Clean Hands Project has subsequently been adopted by schools that are members of the Starfish Malawi charity both in the UK and Malawi. Click here for a link to our special handwashing song, composed by members of the Holy Trinity community.
Posters based on the words of our handwashing song, which we also shared with our link school, Mkanakhoti.
Classrooms
Since our link with Mkanakhoti was established, we have funded part of the building of 2 new classrooms. This truly is a joint project, with the community at Mkanakhoti making the bricks and Holy Trinity funding the floor and roof. The new classrooms have enabled some very overcrowded classes to be split and have also meant that learning does not have to take place outside, as this can be challenging during high winds or during the rainy season.
Sponsorship
After leaving Standard 8, there is the opportunity for some pupils to attend the local secondary school but only if they have passed exams and also have the funding to pay for themselves. To help those children who would not otherwise be able to go to secondary school, a number of our staff and families sponsor learners through Starfish Malawi's sponsorship programme. We are always looking for new sponsors so if you would like to find out more, please contact Mrs. Henton via Holy Trinity School Office.
Music for Malawi February 2023
We were delighted to hold a joint event with Holy Trinity Church to celebrate our link with Mkanakhoti and also inform members of the Church community about the work we have been doing. The service was a joyous mixture of songs and worship and we were delighted to raise just over £400 which has enabled Ester, our link co-ordinator at Mkanakhoti, to buy seeds and fertiliser for the school garden. This will ultimately result in crops which can be turned into porridge for the children to eat at lunchtime – a service which pre-Covid was provided by the Government.
Letter from Mr. Jere, Headteacher at Mkanakhoti, February 2023
Dear Holy Trinity,
I greet you all. Mkanakhoti primary school is fine. I would like to thank you very much for all the assistance you provide to my school. Every effort you make to support Mkanakhoti primary school will never be erased in our minds. We are very grateful.
For example, since you built us a school block our learners have been protected from harsh weather conditions. We don't take this for granted.
Currently we are having remedial lessons for classes 1 to 4 under the government program which is embarking on improving literacy and numeracy skills especially to our learners who tend to be slow to get the skills. The teachers in these classes are encouraged to assess all learners in class and find out those who score less in at least two assessments. The chosen learners are therefore assisted separately during free time.
We have also grown soya beans at the school gardens . We want our learners to start taking porridge during break time since some come to school with empty stomachs.
The school also wants to improve the pass rate of the learners who go to secondary school but our main problem is that most of them come from far distances . This makes them to get tired hence failing in class. So we are sourcing funds to connect electricity in their classrooms so that they can study here at school.
Let me finish by thanking you once again for the partnership. We always put you in prayers and we care. May the good Lord continue being with you all.
Yours,
Moses S Jere
(Headteacher)
A message from one of the local chiefs:
Let me take this opportunity on behalf of the children, teachers, chiefs, school management committee and all other stake holders to thank Holy Trinity for this wonderful contribution. May the relationship grow from strength to strength for the mutual benefit of the two schools.